---

Welcome to PG-ACT
Posted on January 5, 2011 
Prince George's ACT advocates accessible transit and livable communities for Prince George's County. Our priorities include rail on the Wilson Bridge, the Inner Purple Line, increased and improved bus and rail service, and quality transit-oriented development. Founded in 2003, Prince George's ACT is a growing advocacy group now with about 150 members.
You can get involved by joining us at one of our monthly meetings, usually held the second Monday of every month at 5:00pm at the Hyattsville Municipal Building in Hyattsville, MD.
Did You Know…
One line of rail has the passenger capacity of about six lanes of rush-hour traffic.
Owning a vehicle can increase a household budget by as much as $7,000 or more each year.
Transit-oriented Development adds value. Property values around transit stations can be worth 25-30 percent more than similar properties not served by transit.
Posted in Uncategorized | Leave a comment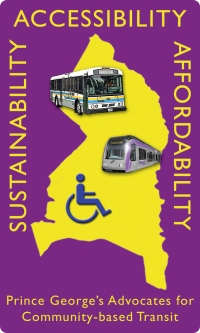 Learn More
Download Our Brochure (PDF)
Read our 2010 Smart Growth Platform
Find Us in Your Community (Map)
Learn more about the Purple Line
Montgomery County Action Committee for Transi